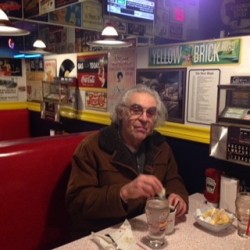 Mintz, Allan, 81 of Thornhill, ON, passed away peacefully on Monday, September 25, 2017. He
was surrounded by loved ones holding his hand while in palliative care at Baycrest. Allan had a
brief but courageous battle with cancer. During his battle, Allan may have declined physically
but he retained his intelligence and sharp sense of humor.
Allan was predeceased by his parents, Isaac, and Sarah; his older sister Leona and older
brother Arthur.
Allan is survived by his children Leslie K Whitby (Jim) of Philadelphia, PA; Jason Mintz (Kristi) of
Vancouver, BC and Adam Mintz of Toronto, ON. Allan was known to his grandchildren Connor
and Allison Whitby of Philadelphia, and Riley Mintz of Vancouver as "Zally". A combination of
Zaidi and Allan.
Allan was born in St. John, NB. He was raised in Toronto and attended Forest Hill High School.
Allan graduated from Osgoode Hall Law School and had more than 45 years' experience as a
criminal lawyer and was a Deputy Judge of the Small Claims Court for six years. After his
retirement from Small Claims Court Allan continued his career practicing Civil Law until his
death.
Allan's legal career was driven by fighting for the underdog. He was a former assistant director
of Legal Aid for the province of Ontario, an original director of the Criminal Lawyers Association
and past Vice President of the Toronto Deputy Judge's Regional Association.
As a member of the Law Society he had appeared before all judicial levels including the
Supreme Court of Canada. He was the administrative Deputy Judge of the Judgement Debtor
Court where he regularly sat and implemented changes that improved the effectiveness of the
Court.
Allan had a razor-sharp mind, gregarious personality, and quick-thinking sense of humor. He
was a good friend to many people with whom he crossed paths in both his personal and
professional life. He often enjoyed building friendships over a meal at one of his many "favorite"
Chinese food buffets or at an authentic deli. The Pickle Barrel was a tradition when his family
was in town for a visit.
Allan's greatest love was his children and grandchildren. He supported them through personal,
academic, professional and family challenges and successes. He wished only the best for them
all.
Family and friends are invited to a "Celebration of Life" reception following services at the Pickle
Barrel Restaurant, located at 5941 Leslie Street, North York on Thursday September 28th from
4:00 pm to 7:00 pm.
Memorial donations may be made to the Allan Mintz Memorial Fund c/o The Baycrest Foundation
at 416-785-2875 or www.baycrest.org/donations