Funeral Arrangements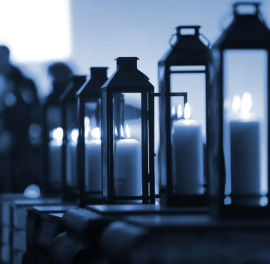 Once a funeral is set you will need assistance notifying as many people as possible. Someone close to the family can do this. You can help them with a list of who should be called. Sometimes it is appropriate to put a sign in a building or in a club house bulletin board. Societies or congregations often have telephone committees.
WHAT TO DO IMMEDIATELY AFTER A DEATH?
Call the funeral home, we will gather info and make all necessary phone calls to facilitate setting time, place and date for the funeral.
CONFERENCE WITH THE RABBI
Prior to the funeral, you should be meeting with your Rabbi. It is important that you share your thoughts, stories or any particulars you wish mentioned in the eulogy. Ask him to announce shiva arrangements (i.e. place, time, duration) and service information ( i.e. morning and evening, or morning only), as well as whether you wish to invite everyone to a gathering after the funeral.
THE SHIVA HOUSE
The Shiva house will require the setting up of low seating for the mourners, (typically done by removing the seat cushions from a couch). The room can be arranged with a circle of chairs to facilitate shiva visitors. Traditionally, tablecloths or fabrics cover the mirrors. When returning from the funeral, before entering the home, you should wash your hands. It is best to prepare a bowl and a cup of water outside the entrance of the door. Customarily, hands are not dried after washing.