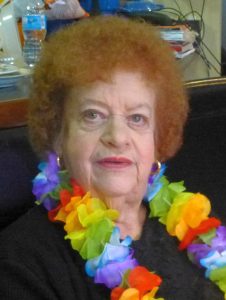 Betty (Bessie) at an age which she would not want publicly disclosed, passed peacefully on Thursday, December 19 at Mackenzie Health surrounded in love by her family.
Beloved soulmate of the late Johnny until his passing at the dawn of the millennium, devoted mother of Sidney, Gary, Larry, and Robin and sister of the late David (late Joyce) Brazer and Shirley Brazer. Sister-in-law to the late Freda (Alex) Kirsh, the late Ida (Solly) Kates, the late Bella (Sol) Zulauf and the late Sibby (Leon) Strachan. Aunt, great-aunt and friend to many.
Born less than one month after the great stock market crash and the beginning of the great depression, Betty grew up in the vibrant 'North End' Jewish community in Winnipeg, Manitoba. Johnny and Betty enjoyed a forty-six-year partnership and love affair. Their marriage was not perfect, but it had a strong foundation of love, respect and give-and take. They encouraged their children to pursue their education and saw each obtain university degrees, leave the nest, although not as quickly as they had probably hoped, to pursue professional careers. Aside from her family, Betty loved the Toronto Raptors, the Blue Jays, game shows and the Bingo. Her nickname, Bingo Betty, was a testament to her identification with Bingo. Bingo was not just a game to Betty, it was a social outlet, vocation and kept her mentally engaged. Betty was fortunate to continue to live on her own until she recently entered the hospital. She did this because of her sheer will, lifeforce and above all, her stubborn determination.
The family would like to thank the caregivers from CCAC , especially Nicolle, for the care given to our mother, the devoted and compassionate nurses at Mackenzie health in 3 Aqua and the Palliative Care unit who kept her comfortable and guided her transition. We are eternally grateful to Juliet Small who provided loving and tender caregiver support to our mother and who lent a quiet, reassuring voice to us in our time of need.
Betty now joins her beloved Johnny as they spend eternity together, once again dancing to the songs of Frank Sinatra and the Benny Goodman Orchestra.
In deference to our mother's intense dislike for doing anything in the morning, her graveside service will be held on Sunday, December 22 at 1:00 p.m. at Bathurst Lawn Memorial Park, Mozirer section. The family will be hosting mourners in the Party Room at 15 North Park Drive, Thornhill, immediately after the service (North on Bathurst, then turn left one block north of Centre Street). Shiva will be privately observed by the family.  Donations in Betty's memory may be made to Reena Foundation 905-763-8254 ext.3630.