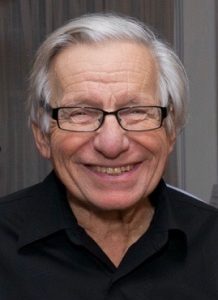 Private Family Service
Gerald (Jerry) Phillip Biderman passed away peacefully in his sleep on May 18 after a three month battle with kidney failure.
Born in  Toronto on August 19, 1932, Jerry is survived by his wife Madeline Dennis and brother Don Biderman and his daughters Robyn Kempe, partner Les Bober, Alicia Yetman and husband Todd. Proud  Zayda to Kymberley and Jessica Kempe, Tucker and Quinton Yetman and Great grandson Jaxson Harris.  Missed by brother-in-law Danny Kayfetz and Carolyn Kayfetz and many adoring nieces, nephews and great nieces and nephews.  Jerry was the oldest son of Mary and Alec Biderman and nephew to his surviving Aunty Bebe Zlotkin.  Jerry graduated from Pharmacy at the University of Toronto and practiced pharmacy for most of his life at Symington Drugs.  Jerry was a gentle and kind person, liked by everyone for his sweet nature and sense of humour. He is missed by family and friends.  He was a Gem. Memorial donations may be made to the Mackenzie Health Foundation, c/o the Gerald Biderman Fund 905-883-2032.
Shiva details and more can be found on the "Remembering Jerry with Love" Website.  Please see the following (you may need to copy/paste the link to your browser):
http://red-dory-ap9k.squarespace.com
Please visit https://smclive.ca/archive to access an archived version of the service for the next 60 days. The required password is May20.