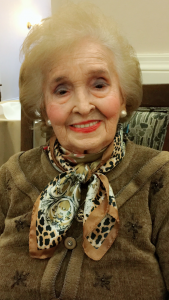 HELEN (GOLDHAR) MORGAN
Holocaust Survivor. With sadness we announce the passing of our  family matriarch,  Helen (Chaiku) Morgan on January 11th surrounded by her loving children and grandchildren.  Married for 70 years to Joe Morgan, z"l. (Mar. 22, 2016).  She is mourned by her children Annie and Joe Feldman, Marilyn and Gerry Wise , Ettie and Jay z"l, Herberman.  Grandmother of Jessica/Avner, Ali/Yoram, Sarah/Simcha, Benjie,  Daniel, Emily/Michael, Amanda, Michael/Rebecca, Lisa, Stacey/Jordan. Blessed with 19  great-grandchildren.
We are grateful for the loving care from her devoted caregivers.
We are grateful to Dr. Sid Nusinowitz for the many years of attention and support he gave to both our parents.
A GENTLE WOMAN PASSED GENTLY.