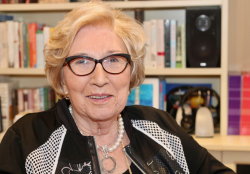 Judy Lysy
Feb. 27, 1928 to Jan. 18, 2109
Holocaust survivor. Clothing retailer. Glamour puss. Born in Košice, Slovakia. Resided in Caracas, Tillsonburg and Toronto. Died aged 90 in North York General Hospital. Predeceased by husband George (2014) and parents Ella Singer (1995) and Moric Singer (1997). Survived by sister Rose Rodan; daughters Eva Halter and Sue Ulrich (Brian Gold); granddaughters Amy Pataki (Janos), Marni Halter (Aaron Del Rizzo) and Marlee Gold; and great-grandchildren Ella, Rebecca, Inara, Marcus and Jonah. Judy loved keeping a clean home, playing cards and giving generously. Oh, and Dean Martin. We loved her, too, even when she was in a mood. A gifted storyteller, she spoke in schools about her imprisonment in Auschwitz to promote tolerance. We want to thank Rozsika Gersztheimer for her loving and patient care.
Memorial donations may be made to the Neuberger Holocaust Education Centre 416-631-5689 and to the Association for the Soldiers of Israel 416-783-3053.
The burial will take place at Bathurst lawn Memorial Park, 6033 Bathurst St., Toronto, M2R 1Z3.
The shiva will be held at 5444 Yonge St., Toronto, M2N 6J4 (in the lower level party room immediately following the service and in PH #10 for the remainder of the shiva).