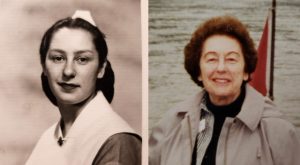 With great sadness, we announce the passing of Sally E. Chodorcove. Born in Edenwold SK, on August 29, 1926, and died on February 24,2023, 4 Adar 5783, at the age of 96, at Baycrest Hospital Palliative Care Unit. Devoted sister to Edith Cantor (Lee z"l) and Rosalind Jarvis (Donald z"l). Loving aunt to Alan (Karen) Cantor, Brian (Carole) Cantor, Eve (Arie) Cantor, Nancie Vargas, and Joanne Jarvis. Proud great aunt to Isaac, Sarit, Oren, Evan, Dani, Aidan and Zoe, and Dylan. Predeceased by her parents Leon and Fanny Chodorcove, and nephew Brian Jarvis. 
Sally was proud of her career as a Public Health Nurse. She was a member of the Pomegranate Guild of Judaic Textiles, an exquisite cook, and a lifelong learner.  
Graveside service and burial: Holy Blossom Memorial Park, 66 Brimley Rd., Scarborough on Monday, February 27 at 11:00 am. Shiva: 212-18 William Carson Cres., in Toronto. Visitors welcome after the funeral until 5:30pm, Tuesday and Wednesday 2:00pm-4:30pm and 6:00pm-7:30pm.  
Memorial donations may be made to the charity of your choice.