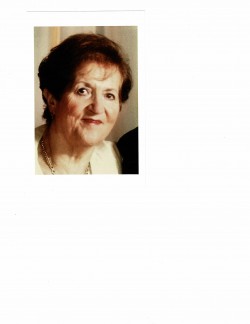 Beliak, Sara Esther z"l
March 17, 1933 – February 24, 2018
It is with deep sadness that we announce the passing of our beloved Mother, Grandmother, and Great-Grandmother, Sara Beliak, on Saturday, February 24, 2018, at Cummer Lodge, surrounded by her loving family. Sara will be dearly missed by her devoted Husband, Leo, her cherished children, Marlin, Ruth (Arnold), Chaim (Chava), Robert (Tammy), and Murray (Stacey); her grandchildren, Michelle (Jeremy), Elliot (Brenda), Faye (Jordan), Bryan, Shoshana, Shalom-Gershon, Zvi-Benyamin, Samantha (Rafi), Dexter, Joshua, Jeremy, Matthew, Shannon, Amanda; and her great-grandchildren Max, Madison, Henry, Lilly, Molly, Eve, Saul, Sasha, and Eden. Thank you to Helen and Zeny for their many years of unconditional love and care. Memorial donations may be made to Baycrest – Leo & Sara Beliak Fund – at donations@baycrest.org 416-785-2875 or to the Canadian Society for Yad Vashem 416-785-1333.